It is the ravine vallfiguera, located to the south of the urban nucleus. Toponym of clear Catalan origin, is popularly pronounced as "falfiguera" or "folfiguera" and despite its name there are not many fig trees in its route, but of course who knows how it would be in the fourteenth century when they named it. Until a few years ago there was a great fig tree on the way there with an impressive glass but I suppose the fire of the 94 had to end it.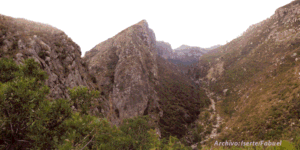 This is a photo taken from the castle, where you can see why I looked like a small volcano. I was very upset when I discovered the entrance to the "volcano" and another when I passed the exit.
Inside the ravine passes, what was formerly called, the path of Castile or the road to the black hill. At the moment, it has been conditioned for the practice of the trekking, existing also another way that goes to the corrals of Don Adón.
As soon as you enter the ravine, you will find the remains of what must have been a watchtower (there is another one on the other side of the mountain). It would surely be built there by the proximity to the border with Castile. If you are interested in seeing it, you will have a little difficult as it is covered by vegetation.
Much of the magic of this place is understood when you access the area that houses the cave paintings. They are located in a place of access somewhat complicated, so it can be explained how they have lasted until our days. Before arriving at the paintings, there is a cave that would probably house "our" ancestors, but like almost all the resources in Chulilla, it has been used to the maximum and I suppose that until only a few decades ago it was used as shelter for the herd, destroying in that way the vestiges that could remain.