I have read about the management parties of casinos and it turns out that they have several coincidences with those of Chulilla.
In the first place they are also in honor of Santa Barbara but the most striking thing is that the hymn that is sung in Chulilla is also used in Casinos.
Two crowns your forehead shine, like Virgin and Martyr undefeated, in heaven your unheard glory, shines like an eternal sun
The hymn was composed by Juan Bautista LLopis in 1939 and in 1942 this anthem was released in Casinos, being the priest priest Don Silvestre Adolfo Salas Yuste, who was Chulillano.
In short, shortly after releasing it in Chulilla, he must have liked it so much that he also triumphed in Casinos.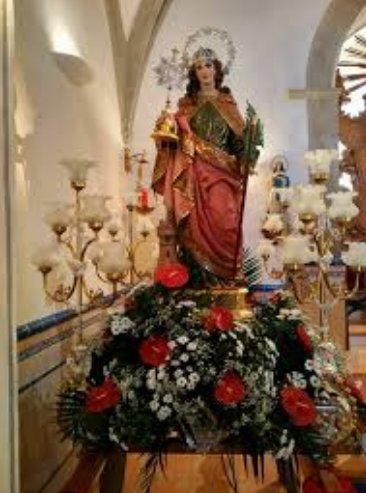 Other Similar Festivals Between Chulilla and Casinos
The festivals of Chulilla and Casinos, two neighboring towns in the province of Valencia, have some similarities in their traditional celebrations. Both towns hold a festival in honor of the Holy Cross during the month of September. In Chulilla, the festival of the Crosses takes place during the first weekend of September, while in Casinos it is celebrated during the third weekend of the month. In both festivals, the locals decorate the streets with crosses adorned with flowers and other typical objects of the area. These crosses are carefully prepared by the neighbors of each street and become the center of the celebration.
In both festivals, a solemn Mass is also celebrated in honor of the Holy Cross, followed by a procession through the streets of the town. During the procession, rockets and firecrackers are lit, and the Hymn to the Holy Cross is sung. In both festivals, popular dinners and other cultural and entertainment activities are organized for the locals and visitors.
Despite these similarities, each festival has its own peculiarities and unique traditions. For example, in the festival of Casinos, the "Dansa de la Mort" (Dance of Death), an ancestral dance in which the dancers wear skeleton masks and represent death, takes place.
Both festivals are an opportunity for locals and visitors to come together around local culture and traditions, and to celebrate the faith and history of each town.