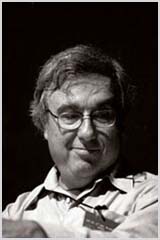 He was born in Mexico City on May 20, 1947. He studied at the Luis Vives Institute in Mexico D.F. along with other children of Spanish political exiles. He has published: Algarabía inorgánica (1979), Hacia dónde es aquí (1984), Los días descalzos (1992) and Balanza de sombras (1997), book for which he obtained the Aguascalientes Poetry Prize in Mexico. In 1999, the National Autonomous University of Mexico published its Collected Poetry (1979-1997) compilation, along with In the waters of Thursday for always (2002).
Deltoro is a member of the National System of Art Creators of the National Council for Culture and the Arts (Conaculta) and conducts a reading and writing workshop at the Casa del Poeta.
Poetry of Antonio Deltoro to his father
Under the sky of March
The carpet, the walls, the portraits, all intact. In the bookseller, your most intimate books tell me your company.
On the chair a sweater, I feel your smell, a mirage tells me that you live. I want to go from your smell to your voice, from your voice to your skin; rebuild.
There is still present to lean on and sunny mornings.
From every point of the long itinerary of your years you look at yourself.
There is so much agility in your enjoyment! What do you think while playing up? The river envelops the mountain and the swifts fly over El Charco Azul. I ran between rocks and bathed in the river and watched the caves fly to the swifts. White houses and a river, vines and carob trees, some orchards, and in streets and ravines, your childhood, your memory, swimming by the river, running between the rocks.
I lived from your conversation and your bearing as from the flight of a bird. There is a piece of Chulilla, Turía River, and Mediterranean Sea on this plateau. The porch, the windows, the fountain, the geraniums, accompany you, accompany us. In the garden they mix their shadows memory and oblivion; lime and ash spilled between the fig tree and the olive tree, between the acacia and the plum tree. Under the sky of March, under its clear blue, with very light clouds we throw your ashes in the garden of the house.
My father, the memorable, the inventor of stories and anecdotes, sank into silence and disappeared without fuss or fear. It gave us hardly time for a slight farewell and a few words. He left without bothering, like the one who takes his clothes, and with supreme elegance, barely profile, he says until later.